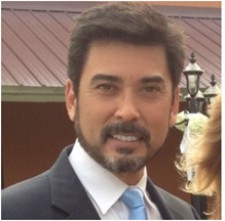 Retired Army Officer, Apache Combat Pilot, West Point, and Naval Test Pilot School Graduate Promoted.
ORLANDO, Fla., February 15, 2018 (Newswire.com) - Hoverfly Technologies Inc., the world leader in tether-powered aerial drone systems, is pleased to announce it has promoted Stephen (Steve) Walters to Chief Operating Officer.  Steve is now responsible for Hoverfly's internal operations including R&D, engineering, manufacturing, and product support.  He is leading the evolution of Hoverfly's LiveSky and BigSky branded tether-powered persistent aerial robots for surveillance and communication to support a growing number of military, security, and commercial customers.
"I'm delighted to have Steve in this new role.  He's a great leader and has the perfect background for this exciting period of growth for Hoverfly.  His experience as a U.S. Army aviator, flight-test director, and aviation program manager give him a deep understanding of the requirements and process for producing, certifying and managing large fleets of complex flying machines," said Hoverfly CEO, Rob Topping.
Steve joined Hoverfly Technologies, Inc. in 2016 as EVP of Special Programs with responsibility for DoD and U.S. government procurements and led Hoverfly's rapid growth in both mobile and fixed-based installations of the LiveSky series of tether-powered small UAS aka "drones."
Hoverfly's LiveSky and BigSky power-tethered drones solve the problem of battery-powered drones that have limited utility and value because of their short flight times.  Hoverfly products fly for hours, days, and weeks at a time without landing because of their secure tether power and communications.
"I'm pleased to be promoted to this role and help make customers more successful in their missions using our world-class aerial drone solutions. I worked with Rob at Westar Aerospace and Defense Group and QinetiQ (LON: QQ) where we were successful in listening and meeting customer requirements. When there are multiple, simultaneous, complex requirements, you need a team with proven operational credentials and I'm proud to have such an experienced group here at Hoverfly" said new Hoverfly COO, Steve Walters.
Prior to joining Hoverfly Technologies, Steve was CEO of Brogden Enterprises and was SVP of QinetiQ North America and Westar Aerospace & Defense Group where he ran a $300MM sector of the $2.2B in revenue public company.  Steve has engineering degrees from the U.S. Military Academy at West Point and the Naval Postgraduate School at Monterrey and is a graduate of the Naval Test Pilot School (USNTPS).
About Hoverfly Technologies Inc.
Hoverfly Technologies Inc. (www.hoverflytech.com) designs and manufactures tether-powered aerial drones designed for persistent security and public safety applications. Our drones operate in defense, security, public safety, sports, media, and large industrial markets where reliability and durability are paramount.  Hoverfly drones fly continuously for hours, days and weeks at a time using mobile/ground power transmitted over the tether.  Hoverfly drones send RF to secure data and operate from fixed base installations or "on the move" vehicles.  Our products fly autonomously and require no piloting skills, making them practical for all types of users, applications, and missions. Our customers equip their drones with a variety of payloads including video, IR cameras, communication detectors, transmitters, lights and more.  Hoverfly drones are designed, built and supported in the U.S.A. 
For more information please contact:
Gerri Dundie, Director, Operations
Hoverfly Technologies, Inc.
12151 Research Parkway; Suite 100
Orlando, FL 32826
Phone: 407-985-4500
Email:  gerri.dundie@hoverflytech.com
Source: Hoverfly Technologies, Inc.
Share: