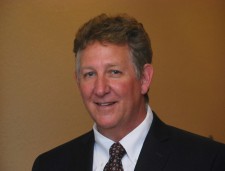 Lew Pincus to Advance Drone System Solutions in Public Safety and Security Markets
ORLANDO, Fla., December 13, 2017 (Newswire.com) - ​​Hoverfly Technologies, makers of power-tethered aerial drone systems, is pleased to announce it has hired Lew Pincus as senior vice president of System Solutions. He will be responsible to lead commercial sales and marketing of its tethered drone systems and solutions.
"We are delighted to have Mr. Pincus join our team. He has a unique understanding of the commercial security and public safety markets and has already connected us with many strategic players in those markets," says CEO Rob Topping. Lew Pincus joined Hoverfly Technologies Inc. to bring drone solutions to the industry and demonstrate how they integrate and act as force multipliers providing that critical outer layer "eyes in the sky" technology for enhanced protection and observation. Hoverfly Technologies designs and manufactures industrial-grade tether-powered drones for persistent aerial surveillance, communications and reconnaissance. The company currently serves several military customers including Army, Navy, Homeland Security, police departments, FDNY and other safety and security organizations.
"I am delighted to be on the leading edge of Hoverfly's incredible technology that will no doubt enhance the capabilities of our public safety and security landscape for people, property and valuable assets," said Pincus. Lew has devoted his career to listening to the "voice of the customer" and looking through the customer's lens to better understand how to solve problems by leveraging disruptive technologies like autonomous robots and combining people, processes and technology to drive better, faster, cheaper and more innovative solutions.
Prior to joining Hoverfly Technologies, Lew was the CEO of a robotics company where he worked with security customers and engineers to develop one of the world's first fully autonomous indoor security robots. Prior to that Mr. Pincus spent more than six years working for the world's largest security provider G4S as senior director of marketing and communications.
For more information please contact:
Lew Pincus, SVP System Solutions
Hoverfly Technologies Inc.
12151 Research Parkway, Suite 100
​Orlando, FL 32826
​Phone: 407-985-4500
​Email: lew.pincus@hoverflytech.com
About Hoverfly Technologies Inc.
Founded in 2010, Hoverfly Technologies Inc. (www.hoverflytech.com) manufactures industrial-grade tether-powered aerial drones and tether kits to organizations seeking a reliable, cost-effective means to maintain an aerial presence to investigate threats from the air, inspect and provide actionable intelligence to mitigate risk. Unlike battery-powered drones that have 20-40-minute flight times, Hoverfly's aerial robots can fly for hours, days and weeks collecting critical information to enhance the overall public safety and security operating picture often at a lower cost than alternative aerial vehicles. Hoverfly's drones use power-tethered technology to deliver unlimited flight times, safe operation and no special piloting skills. Hoverfly also offers its super-reliable tether-powered flight kits to the consumer drone enthusiast making it easy and safer to fly.
Source: Hoverfly Technologies
Share: